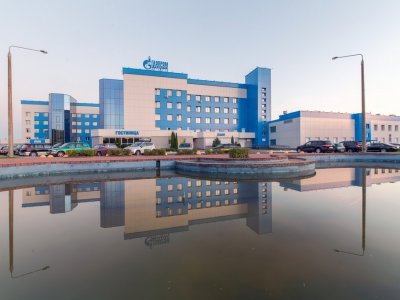 The hotel Gazprom transgaz Belarus is located in Frantsisk Skorina street, in an ecologically clear area.
The hotel proprietary is the similarly named enterprise "Gazprom transgaz Belarus ". The hotel offers a total of first class and luxury rooms such as singles, doubles, triples, executives and suites. All rooms are furnished and equipped with color TV sets, fridges and telephones. There are sanitary conveniences (variants: toilet facilities, WC facilities, ensuite, mechanical core) equipped with bathroom fixtures in every room.
The National library of the Republic of Belarus built in 2006 is situated nearby the hotel. The tourists will be interested in the library not only owing to millions of books on various subjects but also due to its unique architectural style. The building is constructed in the form of a diamond. The library walls will gladden you with colorific illumination.
One ought to visit the business center 'Aleksandrov passazh' and the self-service market 'Evropeisky'. A large (variety of) economy-class goods is represented there. Thus one has an opportunity to save substantial sums of money.
The distance from the hotel to the National Airport Minsk is 35 km and the distance to Minsk Central Railway Station is 10 km.
The hotel Beltransgaz is an excellent place to restore your health and spend your holiday or business trip in comfortable conditions for a favorable price.
| | | |
| --- | --- | --- |
| Amenities | Status | Description |
| Bar | | |
| Parking | Private | |
Booking Terms

At booking cancellations or changes in terms of staying in the hotel, it is necessary to inform on it not later than 24 hours before arrival date.
In case of cancellation of service less than one day before the chek-in terms established in the contract, the CUSTOMER pays a fine of a daily cost of each reserved room and actual, confirmed by documents, expenses for the additional ordered services(visa support, transfer, meals etc.).

Rooms & Rate
Single Econom

Double Bed
Without breakfast.

from 30.00 USD
to 30.00 USD

Twin Econom

Twin Beds
Without breakfast.

from 38.00 USD
to 38.00 USD

Triple Econom

Single Bed
Without breakfast.

from 48.00 USD
to 48.00 USD

Single Standard

Double Bed
Without breakfast.

from 40.00 USD
to 40.00 USD

Standard Twin

Twin Beds
Without breakfast.

from 40.00 USD
to 40.00 USD

Single Comfort

Double Bed
Without breakfast.

from 45.00 USD
to 45.00 USD

Suite

Double Bed
Without breakfast.

from 60.00 USD
to 60.00 USD